Have You Heard of Child Life Therapy?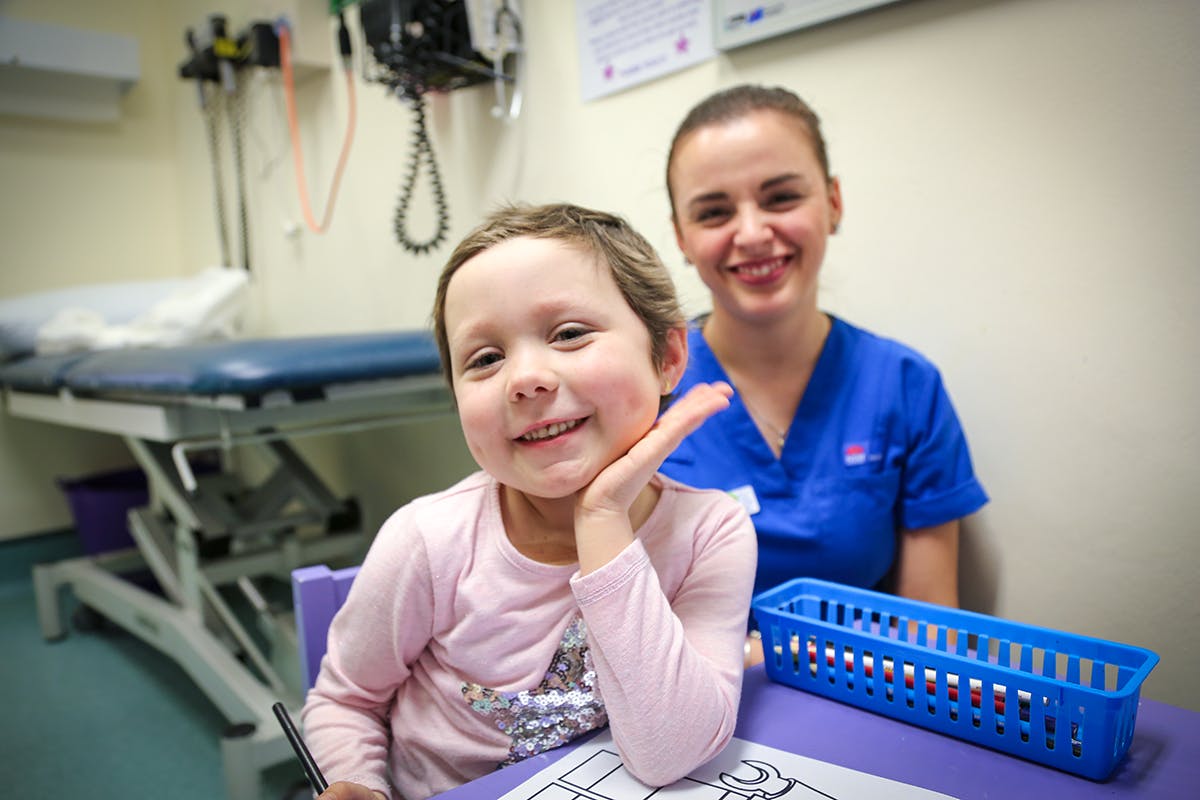 When a child is diagnosed with cancer, they enter an unfamiliar world of doctors, treatment and hospital, which particularly for younger children can be frightening and difficult to understand. For parents navigating the hospital environment themselves, it can also be hard to translate clinical information in a way that reassures their children.
Child Life Therapists play a crucial role in supporting children and the whole family through cancer treatment. These health professionals teach coping skills and provide empowerment, through play, education and distraction, which minimises children's stress and anxiety and can remove the need for sedation for procedures such as radiotherapy or MRI.
Paediatric oncologist Dr Luciano Dalla-Pozza, Director of the Cancer Centre for Children at The Children's Hospital at Westmead, says Child Life Therapy is crucial to keeping kids with cancer hopeful and confident while they are having treatment.
"When we subject kids to the rigours of cancer treatment they can become scared or withdrawn, but a Child Life Therapist helps them cope with painful procedures, so they are more likely to be co-operative. We want kids to feel as comfortable as possible and to feel confident about coming to receive treatment," says Dr Dalla-Pozza.
"With an MRI scan they are in a clinical room with a space age machine that can be overwhelming. You can paint any number of cute whales and camels on the walls, but it is still going to look scary to a child. Kids need confidence to deal with these situations and Child Life Therapists have ways to help them adjust by desensitizing them to these stresses so they can cope and feel safer".
Dr Dalla-Pozza says that cancer treatment for children is not just about knocking cancer on the head. It is also about making sure children have the best quality of life during their treatment and that they go on to achieve their full potential.
It is here that Child Life Therapy makes a genuine difference.
"There is now a clear recognition that children are extraordinarily sensitive to stresses, but they are highly receptive and responsive to the interventions offered by our exceptionally talented Child Life Therapists," says Dr Dalla-Pozza.
Child Life Therapists remain by a child's side, providing practical support to children and their families throughout their treatment, forming bonds and sharing skills that strengthen the wellbeing of the entire family.
Benefits of Child Life Therapy
· Research shows that Child Life Therapy can improve a child's coping skills during the cancer treatment cycle
· Improved experience in hospital leads to better long-term mental and physical wellbeing for children
· Treatment education can reduce the need for pain intervention and stress on the body
· Child Life Therapists take into account the wellbeing of the entire family, including siblings
Find Out More
Camp Quality currently funds Child Life Therapists at Monash Children's Hospital, John Hunter Children's Hospital, The Children's Hospital at Westmead and Sydney Children's Hospital Randwick. Find out more about Child Life Therapy on the Camp Quality website.